GPI 2006 Photo Gallery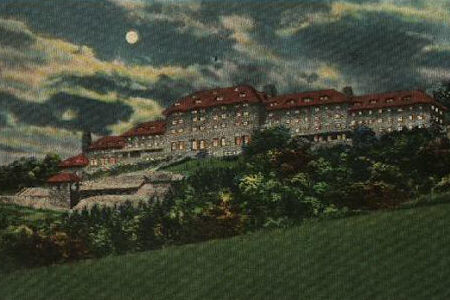 Each year in Fenruary, thousands of Arts and Crafts collectors, dealers and scholars converge in Asheville, NC for the Arts and Crafts Conference. It's three days of complete immersion in the decorative arts period that we all love.
Last year I brought my camera and took lots of pics, and this year I had intended to do the same. In fact, I wanted to outdo myself and include even more "Page 6" style photos of collectors at work (and play!). But alas, it sucks walking around with a Canon G5 hanging around your neck, and who really wants to be that yahoo taking pictures everywhere he goes? Not me.
So I didnt take that many pics -- a few snaps here and there of Roycroftie folks, and a last minute snapathon Sunday afternoon on my way from the Great Hall to the parking garage on our way out. Just to give something to my demanding public. Next year I'll do better -- I promise!! In the meantime, here's what I managed to take....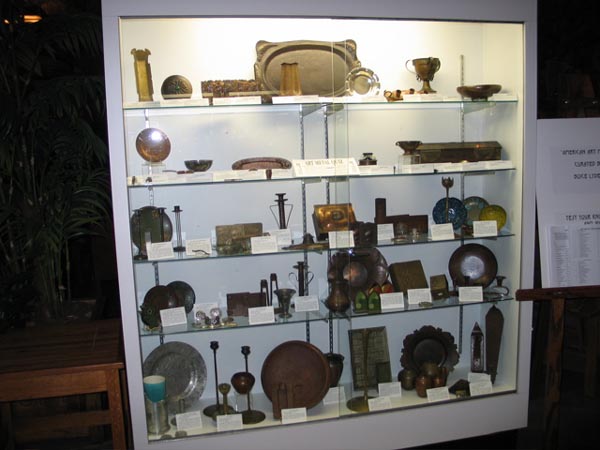 Boice Lydell's very popular "Guess the Maker" art metal exhibit. There were some easy ones and some really hard ones. But what Boice doesn't know is that most of us spent more energy trying to guess how much he paid for all this stuff on eBay!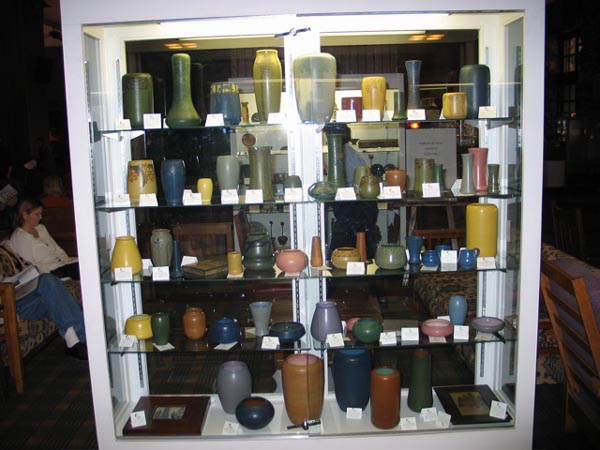 The Marblehead Pottery exhibit. If anyone wants to get me something nice for my birthday, the 5th pot from the left on the second shelf down would look really nice in my home (this Marblehead masterpiece -- the famous Secessionist corseted vase -- is in Dave Rago's March 2006 sale!!).
Grand Rapids metalwork and related ephemera.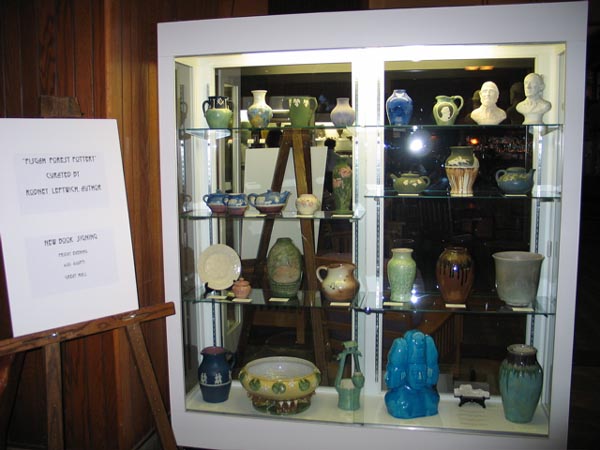 Pisgah Forest Pottery.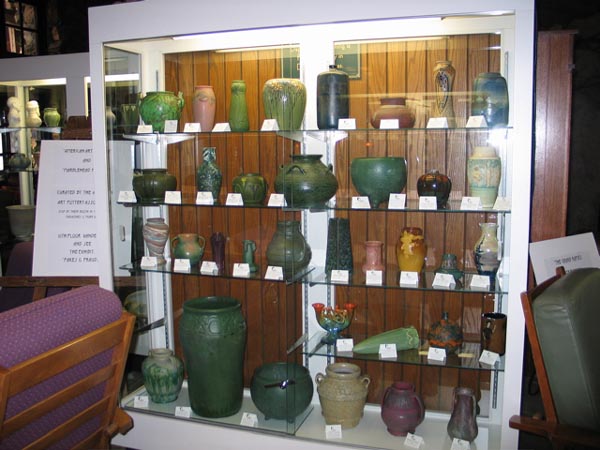 Various American art pottery (from the American Art Pottery Association I think)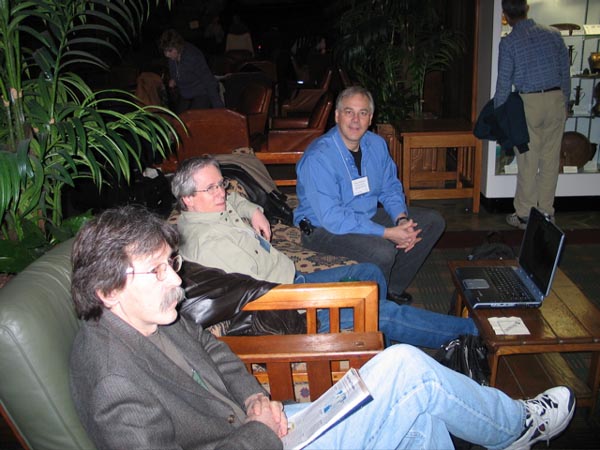 Heavy hitter Roycroft collector "The Dragon" McFarland (blue shirt) and world weary Roycroft sage Bruce Austin (grey jacket).
One of the few, proud owners of the smash hit "Roycrofters of America in Caricature 2006".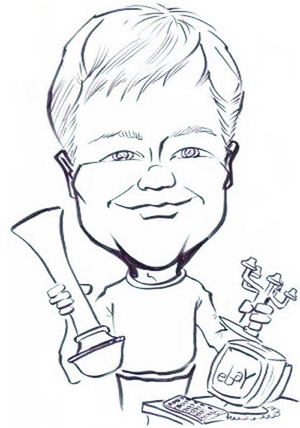 My contribution to that monumental work.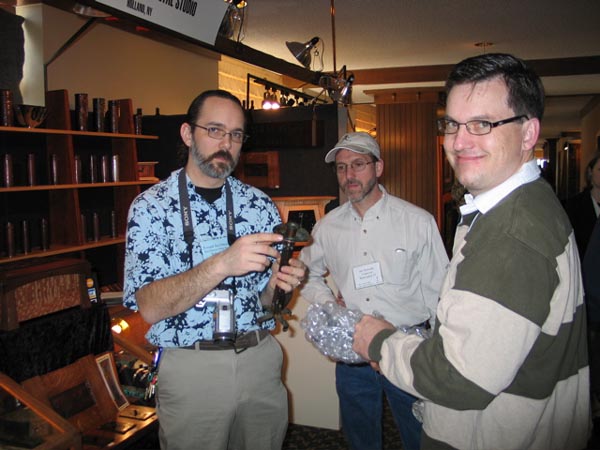 Metalsmith Ron Van Ostrand discusses a restoration job with maniacal Roycroft collector Rob Welch while my brother the Fulper Pottery expert looks on. PS -- Ron's cylinder vases just keep getting better and better!!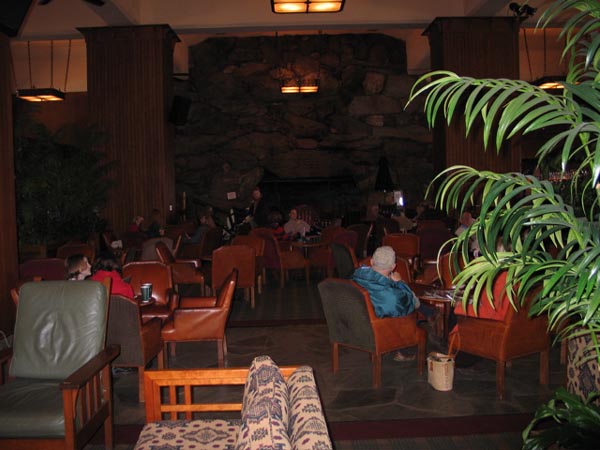 The Great Hall on Sunday afternoon. By this time it had quieted down a lot -- on Friday and Saturday evening it's standing room only. We're now on our way out, so follow along for a walk around the Great Hall......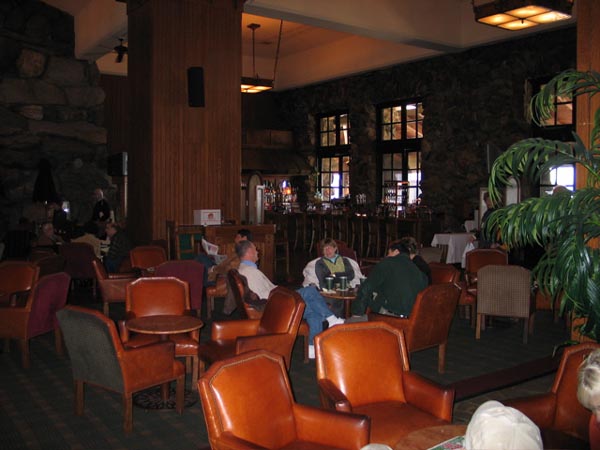 ...don't miss checking out the original Roycroft lighting fixtures hanging from the ceiling!!...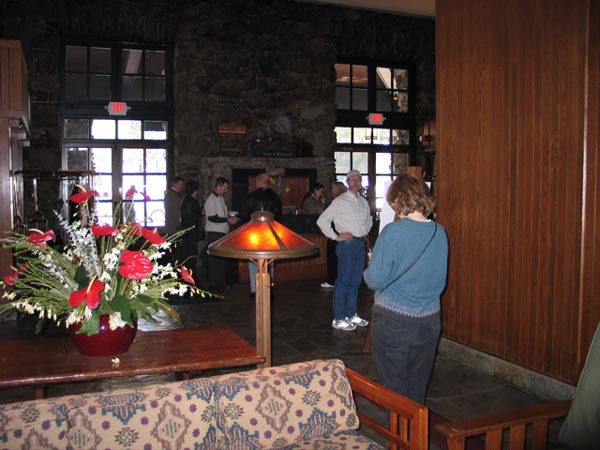 ...another angle of the Great Hall,...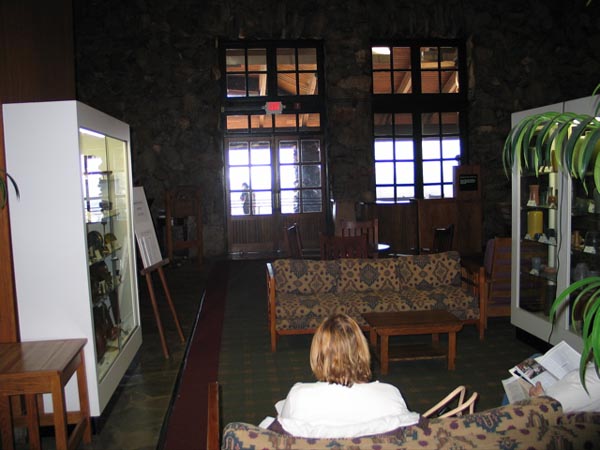 ...and another...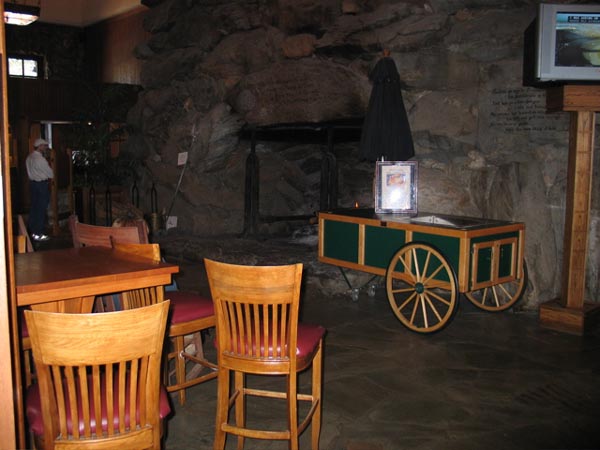 ...and another....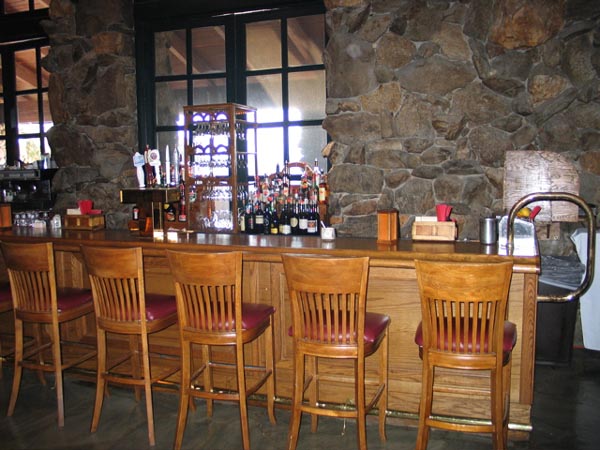 ...and another...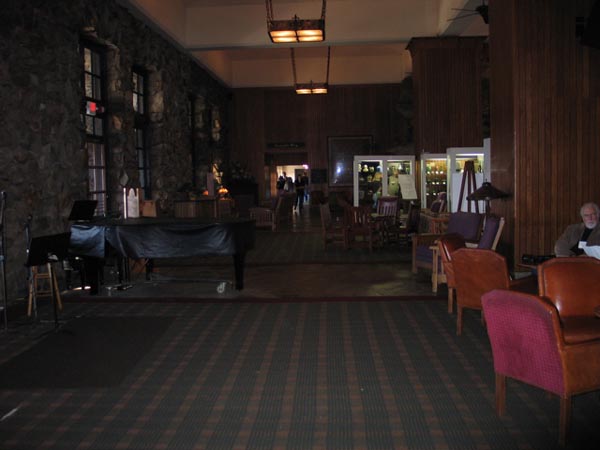 ...and another view (looking back toward the wing housing the antique and new crafts show)...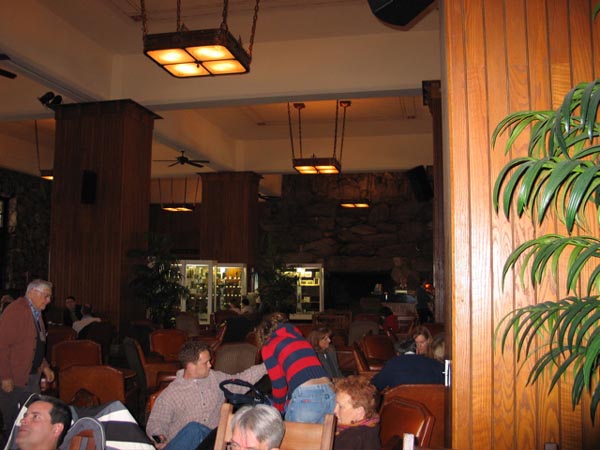 ...and another.
Now we've left the Great Hall and are walking toward the garage to start the journey back from NC to NY. Again, note the Roycroft light fixture above.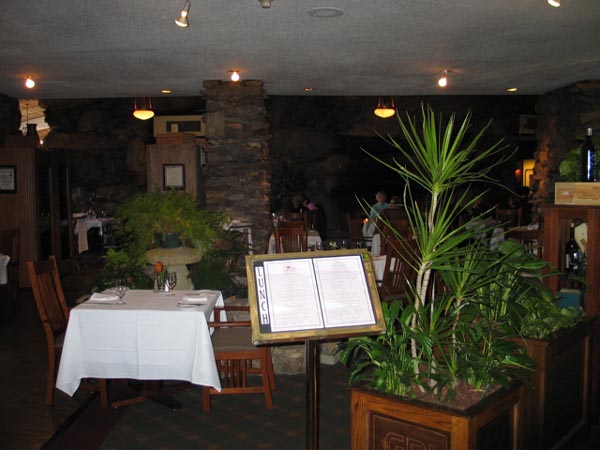 Further down the Hall is the Chops steakhouse restaurant where I prefer to eat while at GPI -- nice atmosphere and the steaks are really good (and I'm a jaded NYer!).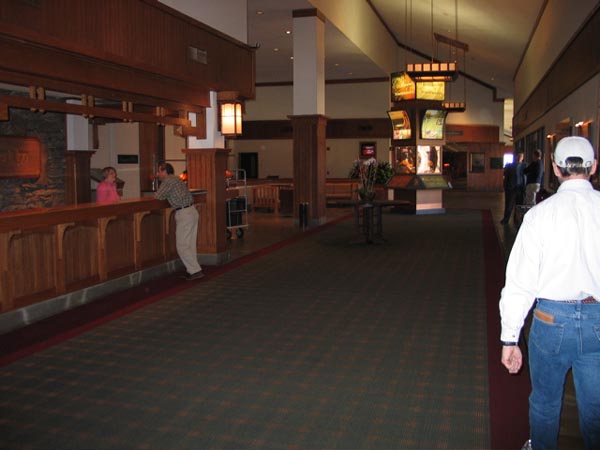 Continuing on past the Conference registration desk toward the lecture hall.
A quick step outside to snap a shot of the front of the Inn.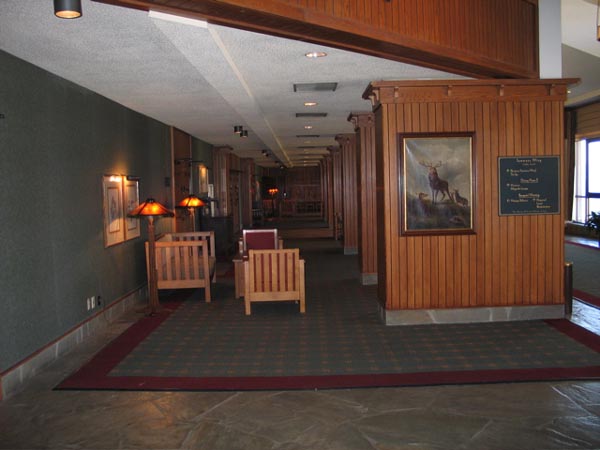 The entrance to the lecture hall is just past the settle on the left.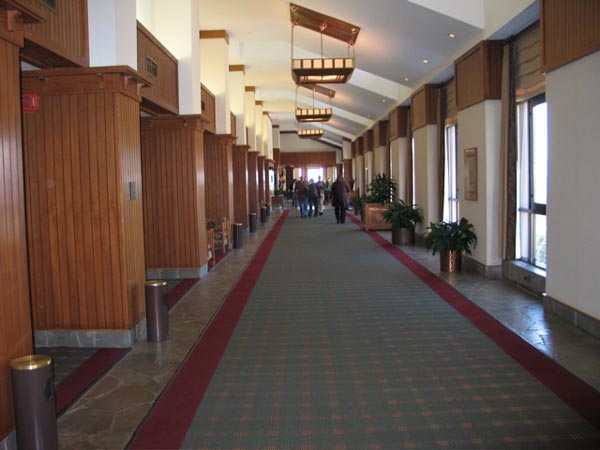 We're now clearly in one of the new wings of the Inn. Here, I'll turn right to show you the view out the window...
Ooooh....Aaaaah.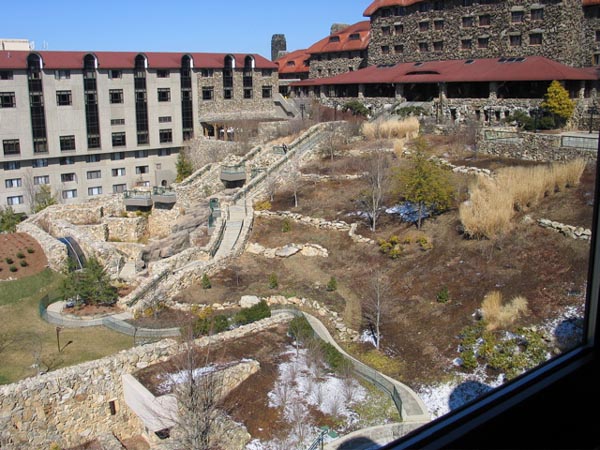 Here's a shot looking back at the new Spa that lies largely underground.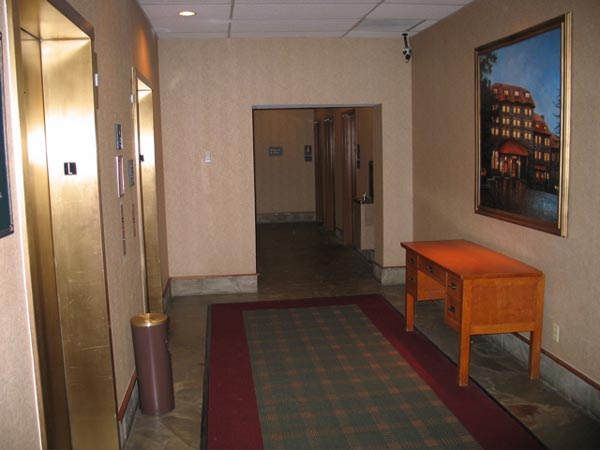 An elevator? You're thinking "c'mon Dave, you're trying our patience now". But bear with me -- look at the desk -- and note the hardware -- yes, it's Roycroftie!! That's one of the cool things about GPI -- everywhere you go there's vintage Arts and Crafts furniture, lots of little surprises, and stories to discover. The desk is actually by the White Furniture Company, but the hardware is Roycroft -- don't ask -- just go next year and figure it all out for yourself! :-)